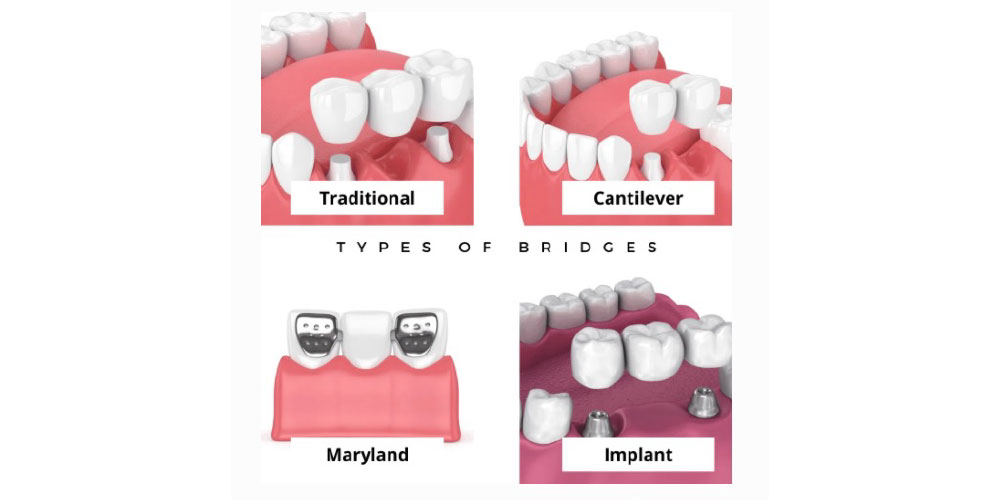 If you have 
missing teeth
, your dentist can close — or bridge — the gaps in your smile with dental bridges. A dental bridge is a 
false tooth
 (called a pontic) that is held in place by the abutment teeth on either side of the gap. Although pontics can be made from a variety of materials such as gold, typically they're made from porcelain to aesthetically blend in with your natural teeth.
There are four main types of dental bridges:
Traditional
Cantilever
Maryland
Implant-supported
Why do I need a dental bridge?
When you have a missing tooth or missing teeth, it can affect you in a number of ways. A dental bridge can address those changes, including:
Restoring your smile
Restoring the ability to properly chew
Restoring your speechand pronunciation
Maintaining the shape of your face
Re-adjusting your bite to properly distribute the force when you chew
Preventing your remaining teeth from moving out of the correct position
What does a dental bridge cost?
There are many variables that can affect the price including:
number of teeth needed to fill the gap
materials used, such as composite resin, zirconia, or metal alloy covered in resin
complexity/difficulty of the placement
additional treatments for other dental issues, such as gum disease
Your dentist will consult with you and inform you of the options available.