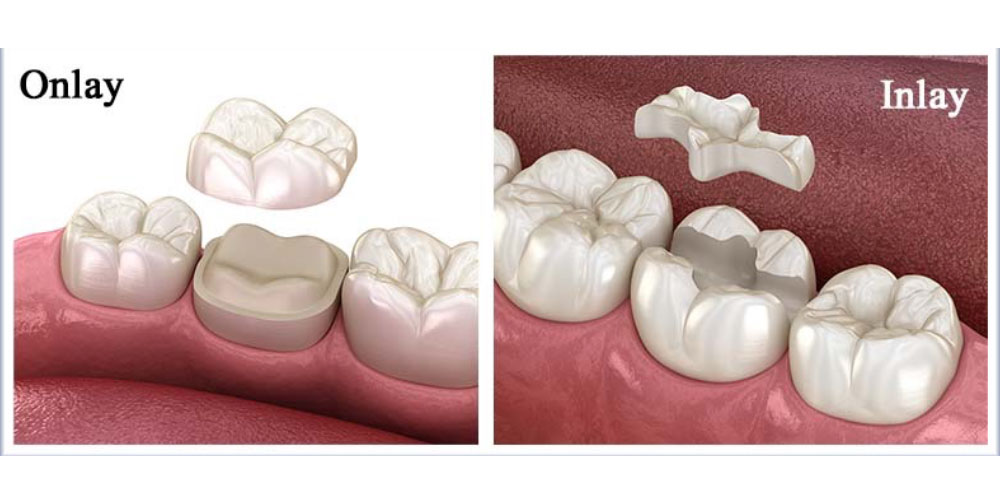 Usually, fillings are used to fill in small cavities, while crowns are used when a larger surface needs to be covered up. There may be situations when a filling is not enough, and a crown is too much to protect dental decay…that's when d
ental inlays and onlays
 are used to fill in those gaps.
But what is the difference between the two?
At their most basic definitions, an 
inlay
 fills in cavities and hollows in a tooth in the areas between the cusps. An 
onlay
 will not just fill in cavities in those spaces, but they can work for a larger area, including the cusps.  They work similarly to crowns, but they do not cover the entire surface of the tooth.
They are both made from the same materials, and they both serve the same function, but they cover different areas of the tooth to properly protect when there is a need.
Several materials are available:
Gold
Porcelain
Plastic
Composite Resin
How does my dentist choose what material to use?
The location and extent of the decay, or reason for restoration of your tooth, determines the type of inlay or onlay is best for you.
How much will it cost?
The cost of treatment is based on the size and materials needed. Your dentist will consult with you and inform you of the options available.