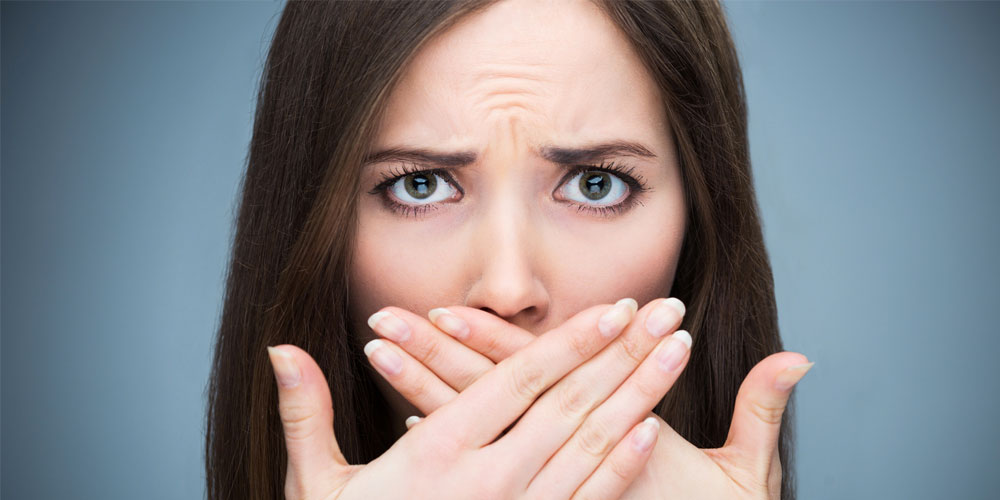 Bad breath (halitosis) can be an unpleasant and embarrassing condition.  Many of us may not realize that we have bad breath, but everyone has it from time to time, especially in the morning. There are various reasons one may have bad breath, but in healthy people, the major reason is due to microbial deposits on the tongue, especially the back of the tongue.  Some studies have shown that simply brushing the tongue reduced bad breath by as much as 70 percent.
Morning breath should not be your excuse for your constant bad breath. Here are some tips to good breath and healthy teeth.#selfcAARe pic.twitter.com/kW8f8BMBbr

— AAR Health Care (@AAR_Healthcare) August 13, 2018
Morning time – Saliva flow almost stops during sleep and its reduced cleansing action allows bacteria to grow, causing bad breath.

Before you agree to marry someone, get to know their morning breath..

— lexi (@lexi_olivas) August 17, 2018

Certain foods – Garlic, onions, etc. Foods containing odor-causing compounds enter the blood stream; they are transferred to the lungs, where they are exhaled.

High fat diets can cause stasis. Food remaining in the same place for extended periods results in fermentation, decay, and their being acted upon by bad bacteria, causing bloating and bad breath, and can eventually damage the intestinal lining.#BuildingGutStrength

— Brain&BodyFoundation (@brainbodycentre) July 5, 2018

Poor oral hygiene habits – Food particles remaining in the mouth promote bacterial growth.

Children with poor oral health are 3x as likely to miss school due to dental pain. PAs, consider doing outreach to educate kids on the importance of oral hygiene. #BacktoSchool pic.twitter.com/zUwbaLSfXn

— nccPA Health Fdn (@nccPAHealthFdn) August 20, 2018

Periodontal (gum) disease – Colonies of bacteria and food debris residing under inflamed gums.

wish my gums would stop bleeding lol am convinced i got gum disease mmm

— Caitlin Rudge (@CaitlinRudge) August 19, 2018

Dental cavities and improperly fitted dental appliances – May also contribute to bad breath.
Dry mouth (Xerostomia) – May be caused by certain medications, salivary gland problems, or continuous mouth breathing.

That first sip when you've got dry mouth👅💦 pic.twitter.com/w0nnwg1J6u

— JAKE (@JAKE_0KAY) August 11, 2018

Tobacco products – Dry the mouth, causing bad breath.

I hate havin dry mouth after smokin 😫

— KYY ♌️💉 (@KYYSAUCIIN) August 16, 2018

Dieting – Certain chemicals called ketones are released in the breath as the body burns fat.
Dehydration, hunger, and missed meals – Drinking water and chewing food increases saliva flow and washes bacteria away.
Certain medical conditions and illnesses – Diabetes, liver and kidney problems, chronic sinus infections, bronchitis, and pneumonia are several conditions that may contribute to bad breath. Keeping a record of what you eat may help identify the cause of bad breath. Also, review your current medications, recent surgeries, or illnesses with you dentist.
Don't wait until your partner or friends complain about your bad breath. Call our Mount Pleasant Dental Office in Vancouver at .